Building digital experiences to drive engagement, loyalty, and growth for your brand 
Let WayPath give your customers a first-class digital experience.
The experts at WayPath can implement this powerful platform, enabling your organization to deliver branded and personalized digital experiences to your customers, partners, and employees. Salesforce Experience Cloud provides a variety of tools and features to help your business build and deploy custom portals, websites, and mobile applications, all tailored to meet the unique needs and preferences of your customers. 
Salesforce Experience Cloud creates intuitive interfaces for self-service support, knowledge bases, and community forums, helping increase customer satisfaction and loyalty, while reducing support costs and improving operational efficiency. 
One of the key advantages of Salesforce Experience Cloud is its ability to leverage data and insights from across the Salesforce platform to deliver personalized experiences. For instance, you can use customer data to recommend relevant content or products, or provide tailored support based on a customer's purchase history or behavior. 
Additionally, Experience Cloud offers intuitive drag-and-drop page builders, customizable templates, and analytics for quick creation, testing, and optimization of digital experiences that meet users' needs and achieve business objectives. 
Discover how WayPath can help you create, manage, and share content to create compelling digital experiences.
At WayPath, we've successfully implemented, integrated, and customized CRM systems for organizations of every size and industry. We have the technical expertise and the business acumen needed to understand our clients' business goals and support them at every stage of their Salesforce solution project, from discovery to delivery.
WayPath can transform user engagement with Experience Cloud's powerful features for a personalized, empowering, and connected digital experience.
Customizable interfaces

— Create customized portals, websites, and mobile apps that meet the specific needs of your users

 

Personalization

— Use data and insights from across the Salesforce platform to deliver personalized experiences to users, including recommendations for content, products, and support

 
Self-service support

— Build self-service support portals that enable users to find answers to their questions and resolve issues on their own

 

Knowledge management

— Create and manage knowledge bases that provide users with easy access to information and resources

 

Community building

— Develop online communities where users can connect with each other, share knowledge, and provide support

 

Drag-and-drop page builders

— Leverage intuitive page builders that make it easy to create and customize digital interfaces with no code required.

 

Customizable templates

— Accelerate your development process with customizable templates, which allow for branded interfaces 

 
Analytics and reporting

— Track the performance of your customers' digital experiences and make data-driven decisions through powerful analytics and reporting capabilities

 
Learn more about Salesforce and CRM on our blog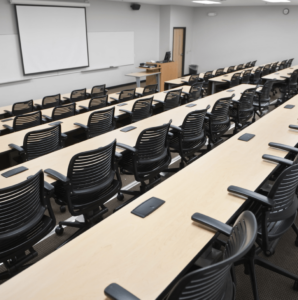 In business, we often talk about staying ahead of the curve. But how about setting the curve and
Read Article
Start the conversation about Experience Cloud
Curious to hear more about other companies WayPath has helped leverage Salesforce?
Helping Financial Organizations
Curious to hear more about other insurance companies WayPath has helped?